Illustration Friday: Pet Peeves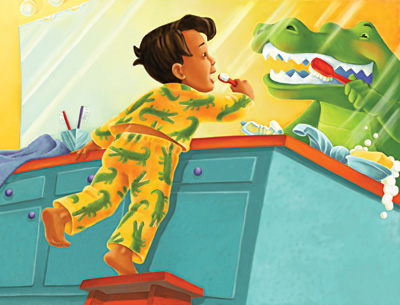 A perfect fit! This is an illustration from "Ready for Bed," written by Stacey Kaye, illustrated by Yours Truly, Free Spirit Publishing. It will hit shelves in just a few months, so keep your eyes peeled. Oh that's gross. Maybe just keep a look out. But where would you put it? Keep your radar up . . . are you submerged? Um. Yeah, it's Friday and I'm feeling a bit slap-happy. What of it? Anyhow.
Isn't it a perfect fit!? Get it? PET peeves? Who would be more particular about brushing your teeth correctly than a crocodile? Hmmmm?
Labels: IF