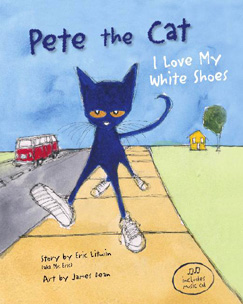 Pete the Cat is starting to strut!!
Last year I had the pleasure of working with two very talented guys who hired me to guide them through a book they were putting together,
Pete the Cat, I love my white shoes
.
I don't think I've ever made my feelings towards self-publishing a secret, however I do recognize there are times when it is appropriate, and this was one of them.
The author, Eric Litwin, a.k.a.
"Mr. Eric,"
is a highly popular musician at schools and events for the younger crowd all over Atlanta. The artist,
James Dean
, is the creator of
Pete the Cat
, an icon in Decatur which has grown in popularity all over the country.
They are local celebrities and both have loyal followings. They already visit schools, sell at festivals and are generally out there. Marketing for the book really isn't very different from what they already do.
Add to that, the story, art, and music (on a CD included with the book) are
absolutely wonderful
and you have one of those rare exceptions - a darned good reason to self-publish.
So, I was honored when they came to me for consulting advice to make their ideas into a picture book that really worked. They were kind enough to add me in their credits, and I have to say, I am so proud of this book. Eric and Pete have created a musical, urban, hip and funny book which I believe is going to really take off as a favorite read-aloud for families and schools.
So, if you get the chance, check it out - it's all good!
Labels: BigNews