30 Poets/30 Days!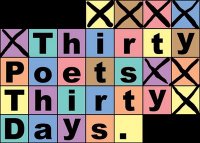 Drum roll please....
Gregory K. Pincus is brilliant, and cool - no foolin'! Get a load of what he's up to (from Gregory):
I'm excited to announce 30 Poets/30 Days taking place all April at my blog (http://gottabook.blogspot.com). Every day of the month, I'll be posting a previously unpublished poem by a different children's poet, including the former and current Children's Poet Laureates, Jack Prelutsky and Mary Ann Hoberman, Golden Kite Winners Kristine O'Connell George, Pat Mora, and J. Patrick Lewis, Newbery winner Linda Sue Park, Jane Yolen, Nikki Grimes, Adam Rex, Nikki Giovanni, and many, many more.
I am really looking forward to this!!
Labels: Events