Illustration Friday: Backwards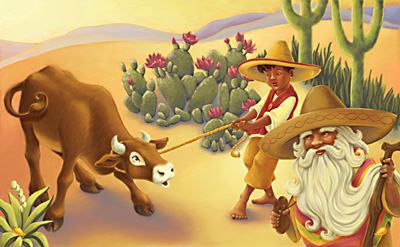 Yet another from
Paco and the Giant Chile Plant ~ Paco y la planta de chile gigante
(I love that my publisher lets me share). Paco is getting so close I can almost taste it - PICOSOS!
I've been busy planning events to celebrate its release this spring. If you'd like me to visit your school/festival/event go under "visits" and get in touch!
Here Paco's cow wants to back up and go home, not be traded for a costal of magical semillas!
Click the image to see it larger.
Labels: IF