Coloring Page Tuesday - Rooster
Sign up to receive alerts when a new coloring page is posted and to view more coloring pages - click here!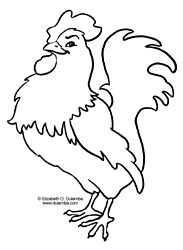 So, according to a top
New York children's book editor
, your portfolio should include the following: a dog, a cat, a dinosaur, a cow, a pig, a chicken, a duck, a horse, a rabbit, a wolf, an elephant, a mouse, and a tiger. So today I give you a male chicken - a Rooster in the extreme.
*bicack!*
To learn more about setting up your portfolio, read
my article
.
Click the image to open a .jpg to print and color. Send me your colored version (less than
1mb
) to
coloringpages@dulemba.com
and I'll post it to my blog!
For more coloring pages, go
here
.

Learn about my bilingual picture book
Paco and the Giant Chile Plant ~ Paco y la planta de chile gigante
- click the cover.
Labels: Coloring Page Tuesday