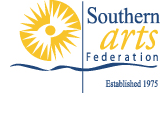 Wowsa, have I got good news!! Remember my write-up about our
1st Annual SCBWI Southern Breeze Illustrator's Show
? And remember I said the
Southern Arts Federation
was interested in making it a traveling show all over the South for two years - they just had to run it by their constituents for funding support?
Well, they've got it!
Voting is in, and there was overwhelming support for our show to be selected to tour (against several other possibilities).
I'm having lunch with the organizers this week to figure out how all this is done, so I'll keep you posted.
Who knew it would ever come to this!? Our art may be traveling to your neck of the woods in the very near future!
Labels: BigNews