Beeoooteeful Birdhouse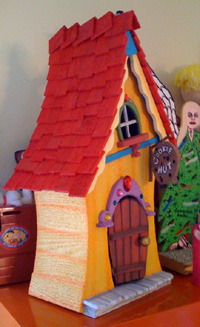 Had another one of those pesky birthday things recently (thanks for all the good wishes on facebook!).
Hubbie and I headed to the mountains for a fabulous weekend where he spoiled me rotten.
One of my favorite gifties is my new birdhouse. I saw these in the
Christmas Shop
in Copperhill, Tennessee a few months back and just flipped over them. Supposedly the guy who makes them used to work with Disney. Can you tell?
I've placed it in my office, on top of my orange book shelves, with my other creative whimsies - a Howard Finster angel, a wooden proportion doll wearing a finger puppet, Peanuts stuff from my childhood, dolls I made for some of my early book attempts, a sweater doll a friend made, one of the hand-puppets I used to make for fun, etc...
I wanted it somewhere where it would remind me that not everything in life has to be straight lines, y'know? I loves it!
Labels: General