Coloring Page Tuesday! - Pirate '09
Sign up to receive alerts when a new coloring page is posted and to view more coloring pages - click here!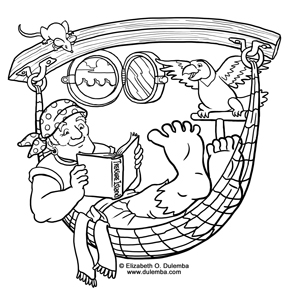 Did you know that this Saturday is
Talk Like a Pirate Day
? This quirky holiday is the invention of two nutty guys, John Baur and Mark Summers (you can read about the
creation of TLAP day here
). I've done a pirate coloring page for several years now - you can find them at the
Coloring Page Tuesday main collection under 'holidays'
. And I'll have a big write-up on Saturday too - so be sure to come back matees or I'll make ye walk the plank - arrrr!!!!
Click the image to open a .jpg to print and color. Send me your colored version (less than
1mb
) to
coloringpages@dulemba.com
and I'll post it to my blog!
Click here
to find more coloring pages.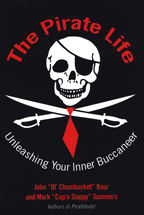 And to keep with the
Random Act of Publicity
, I want to let you know about their book,
The Pirate Life
. Check it out!
Labels: Coloring Page Tuesday