Filter Between Your Ears...
I just have to share this line from a
recent article in PW
...
Anne Collier, coordinator of ConnectSafely.org is quoted as saying, "Librarians are the best filters. Because they can teach students about the filter between their ears."
Bravo Ms. Collier, bravo.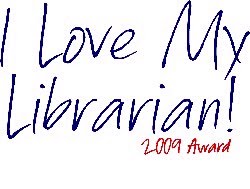 Have a great librarian in your life? Nominate him/her for the
I LOVE MY LIBRARIAN AWARD!
Nominations close October 3rd - so act fast!
Labels: General