SOAP's first online review!!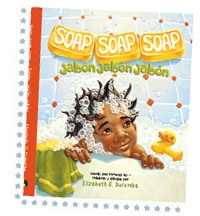 Janelle of
Brimful Curiosities
is the
first
official online reviewer of my
first
picture book as both author and illustrator,
SOAP, SOAP, SOAP!
And wowsa, what a nice write-up!! Thank you Janelle!
(I was nervous...)
She's also the first official stop on my blog tour (this is a teaser) which will wind into full gear this Sunday with a big TA-DA!! - so I hope you'll go visit
Brimful Curiosities
today and come back Sunday to help kick off the party!
FYI:
Something I want to bring to your attention in this swine flu season - SOAP has a strong element of getting dirty then getting
clean
. Per
Anastasia Suen
and others, teachers are starting to use SOAP as a launch to teach general
hygeine
, like hand-washing, in their classrooms. In fact, along with the bilingual aspect, it's one of the main reasons the
Alliance Theatre's Teaching Artists
picked up SOAP to use in their programming this year. Might that work for you and your classroom/kids?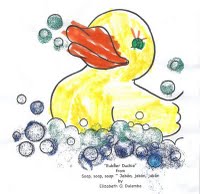 Oh - and don't you LOVE the coloring job Janelle's daughter did of the rubber duckie from SOAP? Visit the
SOAP Activity Page
to do one yourself!
Labels: BigNews, BlogBookTour, Events