Teachers Love SOAP!!
BLOG TOUR!!!!
Today I am honored to be a guest at
Teaching Authors
. This is a collaborative blog by some of the best authors in the biz: April Halprin Wayland, Carmela Martino, Esther Hershenhorn (I'll be interviewing the Illustrator of her latest book,
S is for Story: A Writer's Alphabet
, soon.), Jeanne Marie Grunwell Ford, JoAnn Early Macken, and the infamous Mary Ann Rodman.
See the rest of my
BLOG TOUR SCHEDULE here
.
As anybody knows, if you're going to hang out with teachers, it always helps to bring food! (We think so much better with chocolate, don't you think?) Luckily Hugo, the star of
SOAP, SOAP, SOAP
, is in to making mud pies! Here is an awesome Mud Pie Dessert shared by my publisher, Dawn Jeffers, at
Raven Tree Press
:
Mud Pie Dessert
• 25-36 Sandwich cookies
• 1 stick butter
Melt butter and crush cookies. Mix together and put in 9 x 13 wax paper lined or greased pan - FREEZE.
• 3 sq. unsweetened chocolate
• 1 c. sugar
• 1 (13 oz.) can evaporated milk
Mix next three ingredients and spread on top of above the above mixture and freeze. Once hardened, cut into squares.
A NOTE TO TEACHERS
With the swine flu scare there's been a strong focus lately on
washing your hands
and
hygeine
, especially in the children's world. SOAP, SOAP, SOAP has a strong
get clean
element to it. So much so, that
Anastasia Suen
recently made it one of her Picture Books of the Day and included links to hand-washing activities. Also, the
Alliance Theatre's Teaching Artists
picked up SOAP for their programming this year, partly for the "getting muddy - getting clean" aspect in the book.
Can you use SOAP in your classroom as a kick-off to this topic?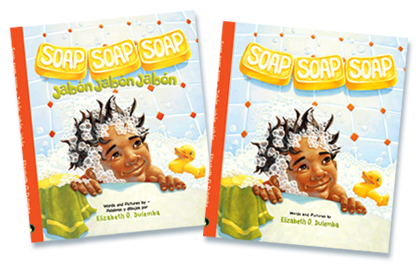 Click the cover to learn more about SOAP,
Soap, soap, soap
and
Soap, soap, soap ~ Jabón, jabón, jabón
.
Labels: BigNews, BlogBookTour, Events, SOAP