Coloring Page Tuesday! - SOAPy Rubber Duckie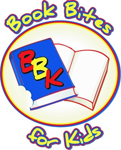 BLOG TOUR!!!!
Today I'll be on internet radio - LIVE!! I will be a guest of Suzanne Lieurance's
BOOK BITES FOR KIDS
at 3:00 e.s.t. on Blog Talk Radio. I hope you'll listen in!
Update!
The show was archived and I can embed it! Have a listen....
See the rest of my
BLOG TOUR SCHEDULE here
.
Sign up to receive alerts when a new coloring page is posted and to view more coloring pages - click here!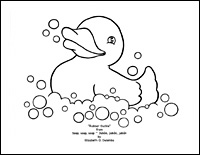 This is the rubber duckie from my new picture book as both author and illustrator,
SOAP, SOAP, SOAP
and
SOAP, SOAP, SOAP ~ JABON, JABON, JABON!
(Have you
left a comment
to be in the drawing for a free copy of SOAP?)
My big
WAHOO - A BOOK IS BORN!
version of
e's news
went out today. You can sign up to receive this every-so-often newsletter (and/or Coloring Page Tuesday alerts) at
Coloring Page Tuesdays.
Click the image to open a .jpg to print and color. Send me your colored version (less than
1mb
) to
coloringpages@dulemba.com
and I'll post it to my blog!
Click here
to find more coloring pages.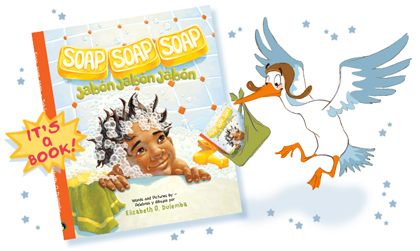 Click the cover to learn more about
Soap, soap, soap
and
Soap, soap, soap ~ Jabón, jabón, jabón
.
Labels: BigNews, BlogBookTour, Coloring Page Tuesday, Events, SOAP