An iPhone App is Born - Lula's Brew!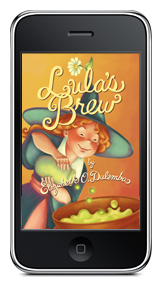 Drum roll please...
I'd like to announce my first iPhone App -
LULA'S BREW
!
written, illustrated and read to you by
Elizabeth O. Dulemba (Yours Truly)
Lula's Aunties want her to be a witch like them. But Lula hates to fly on brooms. She'd rather study cookbooks than spellbooks ... Lula dreams of being a famous chef!
When her Aunties insist she attempt one last potion, Lula secretly adds her cooking flair and in true witchy fashion ends up creating a brew that bewitches the entire town ... maybe her Aunties too!
This rhyming tale transcends the typical Halloween story to appeal to cooks and "foodies" throughout the year.
I had to try it - these new apps are too exciting! Are they books? Sort of, but they're really something new and different. For instance, they're GREAT for on the road when you can't have your books with you. And I love that we have another way to share our stories!
LULA'S BREW
available NOW for $1.99 through:


or



search: Lula
To help celebrate, here are the Stray Cats singing Be-Bop-A-Lula LIVE!
Here's a quick demo:
Labels: BigNews