Where The Wild Things Are Tattoos!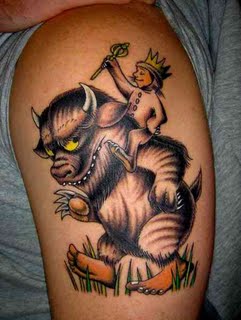 From Cakehead Loves Evil -
Where the Wild Things Are Tattoos
!
No higher honor?
Believe it or not, some of my art adorns bodies too. WAY back when I played
Ultimate Frisbee
(I wasn't very good), I created a logo for our team - Naked Pretzel. I was around to see the t-shirts, but long after I'd moved on I learned several people had turned the logo into tattoos - I think I saw one once but it's been a long time.
And every now and then I get permission requests to turn other pieces into tattoos. I ask them to please send pics so I can share them on my blog. No pics yet, so I don't think anybody actually went forward with it.
But yeah, that would be cool.
Labels: General