Keene State College - Parliament of Owls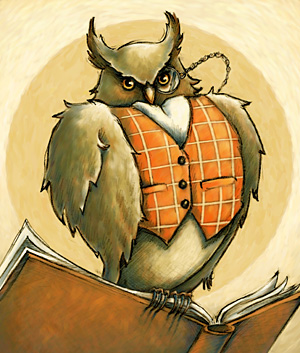 Okay,
Matt Phelan
posted his, so I'll share mine too.
A few months back,
Blue Rose Girls
posted a request for Owls to celebrate Keene State College's 100th Anniversary in 2009. They are gathering 100 Owls to mark the occasion, and put out a call to children's book illustrators.
I couldn't resist. One, it's a great cause; two, owls are so cool; and three, my owl will be hanging alongside owls drawn by many of my illustration heroes.
So, I created my "Wise Reader" and had a giclee made. (Since I work digitally, a giclee is as close as I get to original art.) My owl has already flown north and will be included in the collection. I'm thrilled.
Labels: General