SCBWI LA Summer Conference - Portfolio Show!!
Ever feel like a debutante? Even though I've been in graphic design my entire life, and in children's books for six years now, Saturday night in LA felt like my coming out party. I mean, I
advertise
, I send out postcards, I have my
online portfolio
, but for some reason, I felt like many of the people there were seeing my work for the first time . . . and they were oohing and ahhing!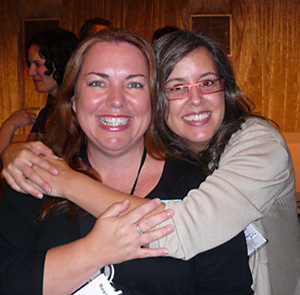 My Fairy Godmother and head of the
SmartWriters.com W.I.N. Competition
(I was this year's Grand Prize winner!),
Roxyanne Young
, made a point of introducing me around like a super-star.
I spoke with
Tim Gillner
, Art Director of
Boyds Mills Press
, for quite a while - what a down-to-earth, nice guy.
Laurent Linn
(pronounced the French way), Associate Art Director for Henry Holt Books, spent quite a bit of time with me and my portfolio and said wonderful things (yeah!). So did
Rachel Griffiths
who graciously offered me a mini-critique after making sure I wanted to hear it - of course I did!
Y'know, I overheard someone quote an editor, "If a book is
this
great (hands held apart), it can be
THIS
great (hands stretched wide)." I know it will mean a lot less sleep and frustration at times, but I'm really looking forward to being influenced by talented art directors and editors to bring my work up to a level I never would have thought possible. To make my work
THIS GREAT!
(Fellow SmartWriters winners: Leslie Muir, Jay Asher, Me, and our mutual Fairy Godmother, Roxyanne Young)
And there was more! I got a hug from
Lee Bennett Hopkins
who kept one of my bookmarks, and I met Caldecott winner,
David Diaz
. I met
Alice Pope
, editor extraordinare of
The Children's Writer's & Illustrator's Market
(part of my SmartWriters prize!). I was especially thrilled to meet
Cynthia Leitich Smith
, who's website has been such help to me over the years, and whose latest book,
Tantalize
, had my mouth watering. In fact, we had a great breakfast the next morning.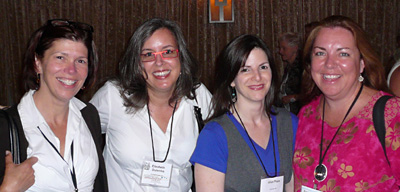 (Kirby, Me, Alice, and Roxyanne)
I got to hang with several of my fellow
Picture Book Artists Association
members:
Kevan Atteberry
(awesome dancer);
David Hohn
(we actually hung out a lot, he's a strong advocate for illustrator's rights and a great guy!); and
Laura Jacobsen
.
I tell ya, the conference could have ended right then for me, I was so wired and excited about all the great comments I received.
But we
weren't finished yet!
Labels: Events