My Office - 2008
People sometimes ask what my work space looks like, so I've taken some pictures to give you a peek inside the mad, creative brain.
Drum roll please . . .
Welcome to my lovable mess . . .
Click the image to see it larger in a new window.
There are several things to notice in this picture (beyond the mess). First, Bernie posed for me like a super-model. He's in
all my books
, so be sure to look for him! The bookshelf to the left is stuffed with YA and writing advice books, dictionaries, trade magazines, a turtle shell, a cow vertebrae and an impala vertebra (bones are cool), etc. I work with dual monitors (one is an Apple) and a 9X12 Wacom tablet. (The computer tower is out of view under my desk.) The small chair holds my
Little Shop of Stories
bag (my local indie bookstore) which is almost always full with my "read next" selections. My portfolio is on my drawing table to the right - I'm pulling it together for the
Kindling Words
conference I'm attending in Vermont later this month.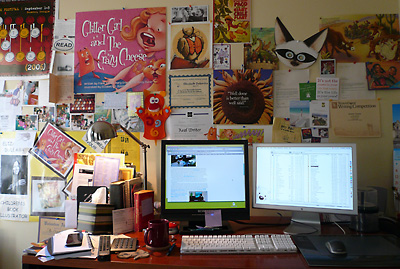 You can click on this one too for a close-up.
Behind my desk is what I have dubbed my "ego wall" and I think everybody should have one. It's grown slowly over the last few years. On it are things that remind me how much I've accomplished in this tough business. We get enough rejections and bad news, so I make a point of surrounding myself with the good stuff. You can probably see the big sign I used at a book signing for
Glitter Girl and the Crazy Cheese
, and the poster from the
1st Decatur Book Festival.
(And the
hand puppet I posted for this week's Illustration Friday
.)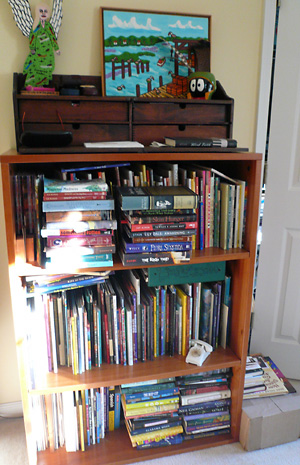 I've also pinned up some proofs from my forthcoming book,
Paco and the Giant Chile Plant,
and the
owl I sent to Keene State College
for their 100 year anniversary parliament collection. Probably too small to pick out are the certificates and letters from
Writer's Digest for my Honorable Mention in this year's writing contest
(for my story "Queen Bea") as well as from the
Southern-Breeze writing contest
. Thank you notes, friend's postcards, schwag from conferences or schools where I spoke and images I like, fill in the gaps.
Whenever I feel beat up by this business, I just look up.
Moving around the room, when you first enter, on the left is my picture book collection, which has also become overflow for my YA books - stacked and two deep. I really need more shelves. (Yes, that's a
Howard Finster
on top.)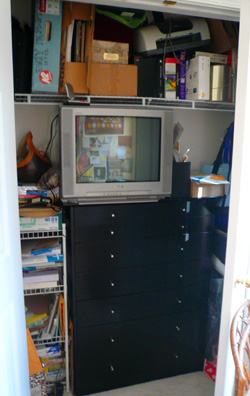 The box to the right contains postcards for
Paco and the Giant Chile Plant
which I need to start sending out soon to announce its release - wippee!
To the right of that is the closet. It has double doors which I use as my paste up surface when I lay out an entire book. Those open wide to reveal storage. I keep the bureau filled with dummies, drawing paper, my schwag (bookmarks, postcards, catalogues), rejected manuscripts, etc. The tv stays hidden since I rarely have it on. The boxes above contain art from the last - ahem - forty years of my life. (I threw out the really bad stuff so some future researcher will think I was always brilliant - ha!) To the left of the bureau are rheams of paper, file folders, envelopes - you know, normal officey stuff. It's a complete mess right now. I really should clean it up . . . later. Ugh.
Here's the lovely view from one of my windows. I can see the light play across several back yards which is actually quite pretty. Sorry I missed my neighbor's tree in the fall. It's turns completely yellow - beautiful. If you look really close you can see my neighbor's dogs - I spy on them and keep them safe. They're sweeties.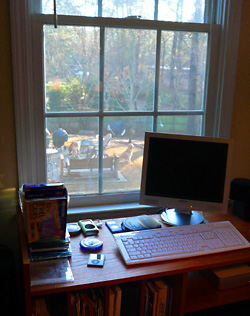 In front of the window is our music server. I've told you hubbie is a geek - well, here's the proof. I listen to
WUTC out of Chattanooga
on this puppy, and all our music is based here and wired through the house. Is good. My collection of children's magazines is below that (SCBWI, Southern-Breeze, publisher catalogues, PW Children's editions, etc.)
Anyhow, the rest of the house is quite sparse and serene in comparison to my office (on purpose). My office feels like an extension of myself and this is where my creative juices flow. I miss it if I'm away too long (translation: a few hours). Thanks for letting me share.
Labels: Method