Coloring Page Tuesday - Mermaid
Sign up to receive alerts when a new coloring page is posted and to view more coloring pages - click here!
Why a mermaid today? I just felt like drawing something
swirly.
Enjoy!
Click the image to open a .jpg to print and color. Send me your colored version (less than
1mb
) to
coloringpages@dulemba.com
and I'll post it to my blog!
For more coloring pages, go
here
.
OMG, this just cracked me up!! Look what CherylAnn Boothe made for a friend's daughter (turning 1 year old). Recognize the mermaid? Seems a shame to let a 1 year old dive into such a piece of art, but well, I'd be right there with 'em - it looks yummy! Fantastic CherylAnn - thanks for sharing!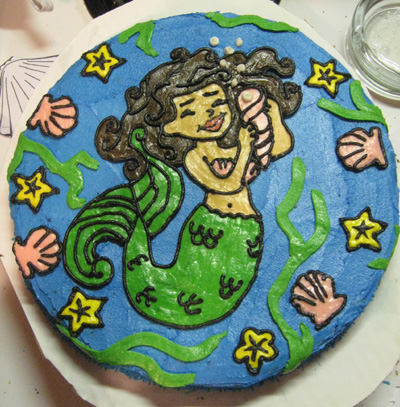 Learn more about my fun picture book
Glitter Girl and the Crazy Cheese
- click the cover.
Labels: Coloring Page Tuesday